Your first stop should be the Basics page. On the Company tab you define some of the typical values for your company, such as average hourly billing rate across your different competencies and the hourly costs to your organization directly. These values are then the default for new projects, among other locations across Roughly Right.
Activities is your standard rate card. For client-facing activities have all checkboxes checked. You can also add internal activities and abscenses.
The next tab of Basics is Calendar. Here you tell Roughly Right about your company's days off/holidays. We recommend planning as far in advance as you can.
The Budget tab is the final tab of Basics. Set goal revenue and profit margin for the organization, or per group.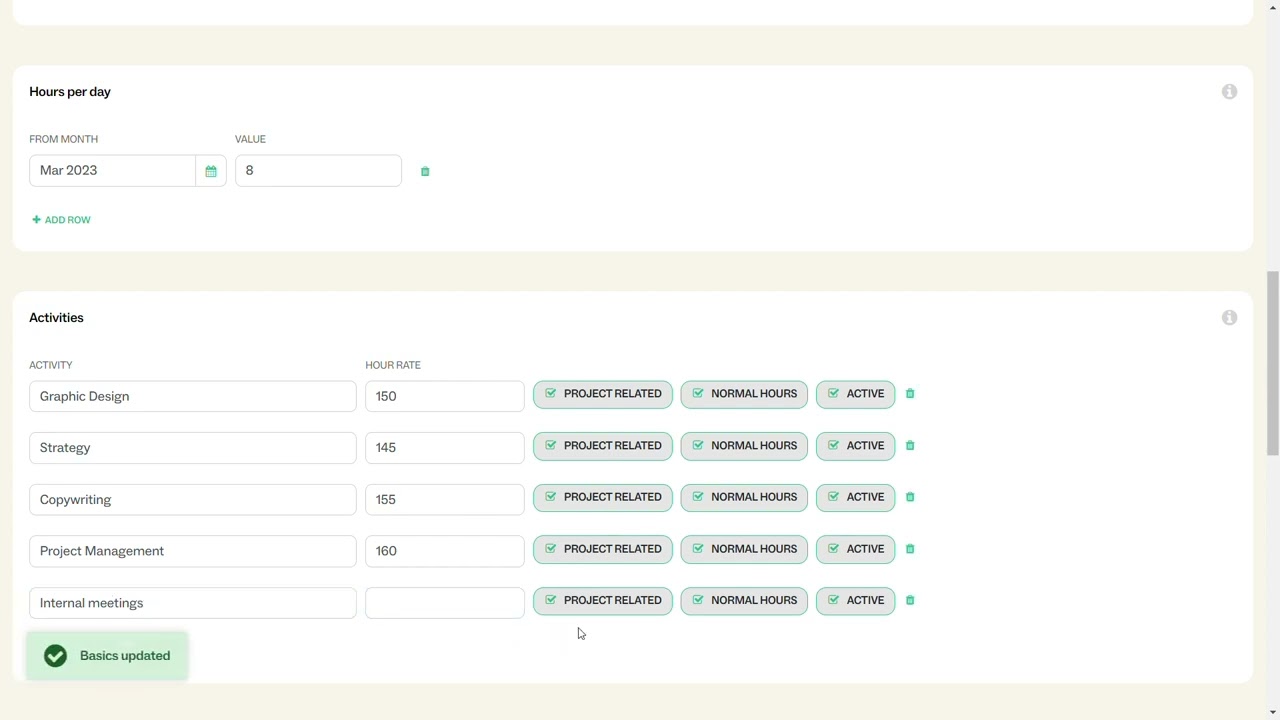 These are the activities that will be what time is reported on, if nothing else is specified on the project. For example, Account management, Project management, UX, UI, Development, etc.
On these project related activities you should check both the checkbox for "project related" and "normal hours". You can disable activities by unchecking the "active" check box without having to delete them. Disabled activities won't be added to projects, but keep in mind projects which already have the activity added will not be affected.
Also create activities for when the employee is not in the office. E.g Sick-leave and Vacation. On these both the "project related" and "normal hours" checkboxes should be left empty.
Also create activities for internal work like Admin or Sales, for example. On these "normal hours" should be checked.
Groups are used to categorize both projects and people. This could be used to separate different offices, or just different teams.
To use groups, first add the different groups in Basics. Then, each project and employee will be able to be assigned from their respective pages.
An employee can be tagged as a member of a guild, where members of the same guild have the same competence. You use these to get availability information for that group, for example, Project Managers or Graphic Designers.
Add the guilds in Basics first. Then each employee can be added to a guild from their employee profile page.
Tags are used to categorize projects. This allows you to analyze different types of projects, for example retainers, using filters throughout Rougly Right.
Tags are first added in Basics and a color can be selected.